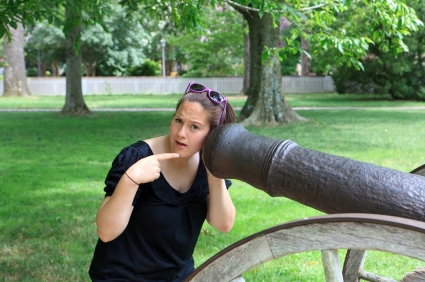 I don't know how many people out there have been paying attention, but the General Assembly made an interesting addition to Virginia's historic preservation statute (VA Code Section 15.2-2306) this past spring. Prior to this addition, Section 15.2-2306.A.1. of the Code of Virginia used to allow a locality to adopt or amend its zoning ordinance to designate historic districts and landmarks, to create a historic review board to administer the historic ordinance, and to require that alterations or development in historic districts must be approved by the historic review board.
However, the General Assembly has now added the following sentence to 15.2-2306.A.1. (click this link to see the actual text of the bill):
"A governing body may provide in the ordinance that the applicant must submit documentation that any development in an area of the locality of known historical or archaeological significance will preserve or accommodate the historical or archaeological resources."
This seemingly innocent addition, which at first glance appears to simply require additional documentation by property owners or developers in historic districts, hides some extremely broad grants of authority to localities. First, this new sentence requires a property owner or developer to "preserve or accommodate" historical resources and to document how they will achieve this "accommodation". In the hands of a locality, requiring a private property owner to "accommodate" historic resources has the potential for a lot of things. What a locality could possibly demand as an "accommodation" I fear is limited only by our collective imaginations.
Second, note that this new sentence does not impose these new requirements only on historic districts or landmarks that have been legally designated through a public process. These new requirements apply instead to "…an area of the locality of known historic… significance…" So who gets to decide where these "areas" are and what their boundaries will be? Who gets to decide what is historically significant and what is not? Are we talking about areas around historic districts? This modification has expanded the reach of this statute beyond legally designated historic districts and landmarks to potentially undesignated and undefined "areas" of significance. In a commonwealth nearly four hundred years old, this can get pretty dicey.
Third, what exactly do they mean by accommodating historical "resources"? Obviously this will apply to preservation of a historic building, etc., but does this mean a developer, in an undefined "area" of historic significance, will be required to make contributions into a historic preservation fund or contribute to some other mechanism deemed by a locality to be a "resource"?
So where are the localities going to go with this new authority they've been granted? With language as loose as this, I suppose pretty much wherever they want.