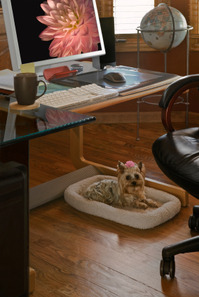 Pet Sitter International's Take Your Dog to Work Day ("TYDTWDay") is Friday, June 21, 2013. With this event on the horizon, it raises questions regarding the legal and practical aspects of allowing pets in the workplace. What policies should be in place prior to opening the doors to your employees' four-legged friends, whether it's a permanent policy or a one-day event?
There are many important components to assess when deciding if pets should be allowed at the office. This first post of a three-part series will discuss the benefits of allowing pets in the workplace. The second post will provide insight into the legal liabilities and other litigation that has occurred in this area. The final post will include information on how to assess if pets in the workplace are right for your company and what should be incorporated into a workplace pet policy.
Benefits of Allowing Pets in the Workplace
With 39 percent of households having dogs, canines in the workplace is a growing trend among employers. Many businesses, including Google and Replacements, Ltd., allow employees to bring their dogs to work. Congress has been dog friendly since the 19th Century, although it has not allowed dogs to be on the floor of the House and Senate since 1811 due to a complaint that Virginia Congressman John Randolph's dogs were too intimidating. Offering a dog friendly environment offers a chance for a business to stand out amongst its competition. In particular, TYDTWDay creates an opportunity to partner with a local shelter or rescue group, allowing a business to form positive ties with its community.
Allowing pets in the workplace provides employers a low-cost opportunity to boost morale when many companies are cutting back. For those owning dogs, this benefit may attract employees and increase retention by providing increased job satisfaction. Pets in the workplace can create a positive environment. Studies show that having dogs in the workplace lowers stress and fosters increased communication amongst employees promoting a more unified workforce. Finally, allowing pets in the workforce can potentially encourage people to work longer hours, which will increase a company's bottom line.
Please check back in a few days for Part 2 of this series, which details the legal liabilities and recent lawsuits associated with having pets where you work.