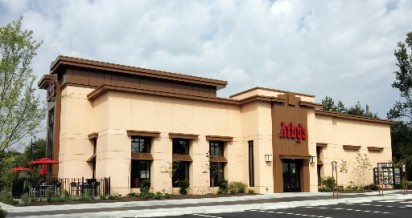 On the return trip from visiting my brother and his family in North Carolina this weekend, we randomly stopped at an Arby's off I-95. We were greeted by not just surprisingly good food in a suprisingly clean spot, but also a surprise thought exercise in food, sustainability and the potential for market change.
Randomly, this specific Arby's was part of a Richmond chain of 19 restaurants that switched to grass-fed beef during 2010. Patrons at the restaurant were greeted inside not only by aisles for ordering food, but also printed menus with caloric and dietary information and a gloss multiple page print of an article regarding industrial food production entitled, "You Are What Animals Eat" by Jo Robinson.
In digging a bit, I have found skeptics on the Wendy's/Arby's chain sustainability efforts as a whole. I found skeptics even as to the Richmond chain's effort commenting on some posts, saying things like:
You got to be a serious moron of epic proportions in order to actually believe arby's could seriously and truly serve/cook grass fed beef. Arby's does not sell beef, it sells a beef product, a complete different thing loaded with monosodium glutamate, high fructose corn syrup and all diff. excitotoxins. Yeah, I love this. This is just what we need.
A fast food trip for me is a pretty rare occurrencenow, but with two hungry kids and a long road ahead it felt like a choice of necessity. What a concept that in perhaps the most industrial of food outlets, we found healthy and sustainable approaches to business percolating. What would happen if we all increased our awareness and demanded more healthful choices from our built environment, transporation, food and entertainment? How would the market respond?