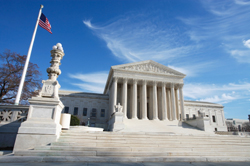 Vance v. Ball State University
You may be aware of the U.S. Supreme Court decision in Vance v. Ball State University, issued on June 24, 2013, which held that an employer is not strictly liable for a supervisor's harassment unless the supervisor has the authority to take a "tangible employment action" against the employee. In Vance, the Court affirmed that a tangible employment action is defined "as a signifi­cant change in employment status, such as hiring, firing, failing to promote, reassignment with significantly different responsibilities, or a decision causing a significant change in benefits." According to the Court, only if the "supervisor" is vested with this authority will strict liability attach to an employer for unlawful harassment under Title VII of the Civil Rights Act.
In the majority opinion, the Supreme Court made it clear that the EEOC and lower courts following the EEOC must abandon their broader interpretation of a "supervisor" and instead adhere to the Court's strict definition as announced in prior cases. In so doing, the Court eliminates overly burdensome factual inquiries into whether an employee can be classified as a "supervisor" for Title VII liability purposes. Cases involving supervisory harassment will continue to turn on whether the supervisor was empowered to cause a signifi­cant change in the employment status of the plaintiff, but due to Vance, the inquiry is considerably narrowed in favor of the employer.
What Employers Should Do
The Vance decision applies to all employers with 15 or more employees. In light of this favorable decision, employers should review their job descriptions and enforce distinctions between supervisors and subordinates consistent with the criteria set forth in Vance. Employers should be clear about which employees are supervisory managers with hire and fire authority versus subordinate employees who have oversight but are not empowered to affect the terms and conditions of an employee's employment. When conducting any review, keep in mind the possible effect on other labor and employment laws, such as the National Labor Relations Act and the Fair Labor Standards Act, in addition to state and local human rights laws that may have more expansive definitions.