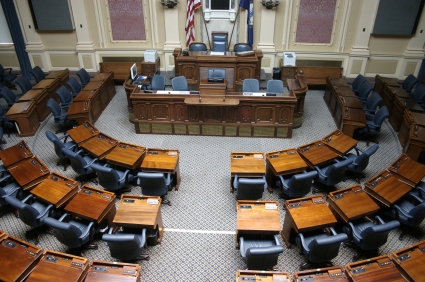 With the General Assembly set to convene and prefiling ending on January 13th, I thought it would be worth while to take a look at the legislative proposals submitted thus far to see if anything jumped out at me this year from the land use side of things. Suprisingly, this session looks kind of light so far (everyone must be focusing on the budget bills…).
From the local government side, it looks like HB 33 proposes requiring additional disclosures by local governments when seeking bond approvals from voters. It appears the idea is that public notices would have to include not only the amount of debt to be assumed, but now also the anticipated number of years to amortize and the total debt service payable on the principal amount of the bonds proposed to be issued. More information for voters – how can you vote against this one?
Also, HB 51 proposes to allow localities' governing bodies the option to prepare their own amendments to comprehensive plans rather than having to request the local planning commission to do so. HJ 11 proposes the necessary constitutional amendment to allow localities to establish their own income or financial worth limitations for granting local property tax relief to seniors (65 year-olds) and permanently disabled individuals.
On the transportation side, it looks like this will be a season of transportation reform. The big one, HJ 5, according to LIS, proposes an amendment to the Constitution of Virginia to require the General Assembly to maintain permanent and separate Transportation Funds, that revenues dedicated to Transportation Funds actually have to be deposited into the Transportation Funds, and limits the use of Transportation Funds to only transportation related purposes, unless the General Assembly secures a 2/3 plus one majority to borrow from the Transportation Funds. Borrowed funds would have to be repayed, with interest, within a specified period of time.
Transportation programs are also proposed to now be subject to performance audits by the Auditor of Public Accounts per HB 42. These audits would include cost saving assessments, and organizational structure/efficiency and effectiveness analysis of transportation agencies by private management consulting firms.
Also, HB 25 proposes to amend the requirements of the Statewide Transportation Plan, and for evaluation of selection of transportation improvement projects, to include as an objective identifying quantifiable measures and achievable goals relating to reduce greenhouse gas emissions. HB 55 puts forward limiting assessments on localities for VRE service to no more than a locality collects through its motor vehicle fuel sales tax while HB 19 attempts to allow the Potomac-Rappahannock Transportation Commission to charge higher fares to VRE passengers from localities who are not that are not embraced by the Potomac-Rappahannock Transportation District.
And finally, from the conflicts of interest camp, members of the General Assembly, per SB 4, would have to disclose any money paid to him/her, or immediate family, in excess of $10,000 by a state or local government or advisory agency. Former Section 30-111 explicitly allowed members and their family members to exclude what they were paid by various governmental agencies/commissions on their Statement of Economic Interest conflict of interest disclosure form. I wonder why?