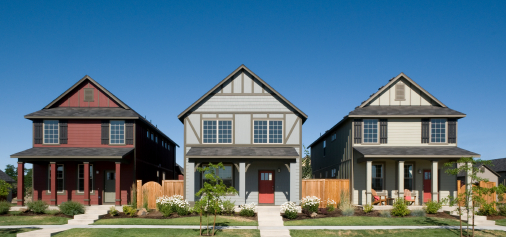 Back to another of the cases highlighted in Case Watch: Upcoming Virginia Supreme Court Opinions. In Schefer v. City County of the City of Falls Church, the Virginia Supreme Court was confronted with a 2006 amendment to a Falls Church ordinance that specified different building height requirements for one-family dwellings in the same zoning district.
Schefer owned twelve lots in Falls Church, all of which were zoned R1-B, a medium-density residential district. The minimum lot area requirement for one-family dwellings in the R1-B district is 7,500 square feet. Schefer's lots were less than the minimum of 7,500 square feet, but had been lawfully created prior to that requirement, and were designated as "substandard lots." For substandard lots, the maximum building height for "residential use" on all R1-B lots was the less of 35 feet or two and a half stories.
In 2006, Falls Church adopted Zoning Ordinance 1799, amending permissible height and yard set-back requirements for one-family dwellings of substandard lots. Ordinance 1799 created a formula for calculating the allowable building height of one-family dwellings on substandard lots within residential zoning districts, resulting in an allowable building height between 25 and 35 feet depending on the size of the lot. The maximum height for one-family dwellings on standard lots in R1-B districts remained 35 feet.
When Schefer discovered that Zoning Ordinance 1799 changed the maximum building height for one of his lots to just over 28 feet, he filed suit against Falls Church, claiming that Ordinance 1799 violated Virginia Code Section 15.2-2282's uniformity requirement and the Equal Protection Clause.
The Court had no problem rejecting Schefer's arguments and siding with Falls Church. Looking at the plain language of Section 15.2-2282, the Court pointed out this section is taken verbatim from the Standard State Zoning Enabling Act, except for the addition of the word "uses." In full, Section 15.2-2282 reads:
All zoning regulations shall be uniform for each class or kind of buildings and uses throughout each district, but the regulations in one district may differ from those in other districts.
To make his argument under Section 15.2-2282, Schefer claimed that one-family dwellings constituted "buildings and uses" that required identical building height requirements. The Court rejected that argument, concluding that this case turned on two kinds of uses – residential use on standard lots and residential use on substandard lots.
The Court gave very short shrift to Schefer's equal protection argument. Before reaching this issue, the Court noted that Section 15.2-2282's purpose is to ensure that zoning regulations are not discriminatory, acting as a "statutory reaffirmation" of equal protection. Under its equal protection analysis, Ordinance 1799 was presumptively reasonable, with Schefer carrying the initial burden to show it was unreasonable. Schefer tried to avoid shouldering this burden by arguing that Ordinance 1799 was facially discriminatory, but the Court refused to allow him to escape his burden of proof because there was nothing inherently suspect about Ordinance 1799 and it did not infringe on the exercise of any fundamental right.
Two more highlighted cases remain. In TIR Connail Properties, L.C. v. 2401 Wilson, LLC, we have yet to see whether the Virginia Supreme Court will say that the plaintiff should have been allowed to sue using its trade name, and what the Court will do about the scope of use of discovery deposition testimony. In Advanced Towing Company, LLC, et al. v. Fairfax County Board of Supervisors, we'll find out whether the Court agrees with the trial court regarding the Dillon Rule and the doctrine of ultra vires. Stay posted!