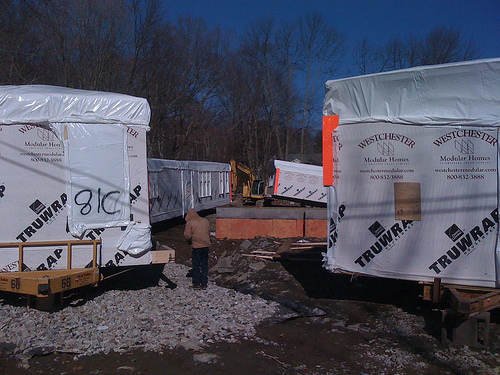 Modular home construction presents significant potential improvements to home construction: significantly reduced construction time; less material waste; and reduced expense. If not handled appropriately in terms of contracts and risk, modular homes can translate to a gigantic headache for both the designers, contractors, and the owner.
Last Thursday, Lisa Rein of the Washington Post wrote an article on mansions turning to modular construction to reduce time and costs. The article caught my eye – while I have noticed this trend over the last 5 years or so, it was the first time I saw local mainstream press pick up on this. My friend Jamie Baker Roskie at the always interesting Land Use Prof Blog picked up on the article and connected the thread towards local codes discouraging use of shipping containers as building materials.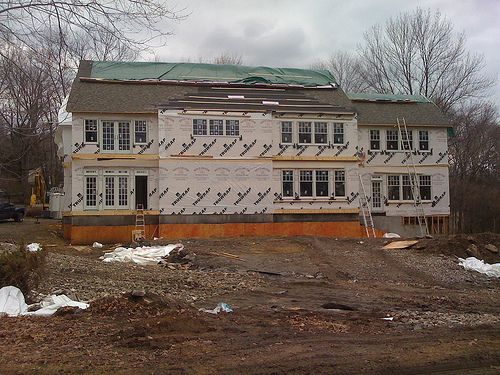 Adaptive reuse of discarded materials is one of the best ways to improve our economy's sustainability, and using shipping containers for modular construction is really an interesting approach. Don't believe shipping containers make good construction materials? Browse through a search of the articles at the highly informative Jetson Green blog that address containers and you will see some remarkable uses of containers, from emergency shelters for recovery in Haiti to very sweet, upscale small footprint breach structures.
Turning from containers to wood based modular construction, count me as a believer that we will see industry move towards more pre-fabricated assemblies to reduce cost and time of construction. Despite my views on the future, I have particiated in some pretty ugly cases involving modular construction. Based on the repetitive nature of these problems, I draw some conclusions about risks involving modular home construction that may help put the Washington Post's article into a legal context:
Prefabricated assemblies are sales of goods governed by Uniform Commercial Code not construction
Sales of goods involve different potential warranty theories and defenses than construction implied warranties
Sales of goods potentially have different statutes of limitations
While the install time may be shorter, manufacturing and delivery time may be a very different story
Most owner/contractor agreements involving modular construction are very weak on defining the remote manufacturer's role and responsibilities
Similarly, most owner/contractor agreements poorly define timing expectations until the modular unit is delivered and set on the building pad
Simple units seem to do pretty well; however, quality control seems to vary wildly amongst manufacturers and even within specific manufacturers depending on the specifics of a projects and the design complexity
As with other manufacturer's warranties, if there are problems, owners and contractors may struggly mightily to get manufacturers to respond appropriately to warranty complaints
This may be coming from the skewed perspective of seeing these projects in litigation, what do you think? What have you seen? Finally, how has the economic downturn improved or worsened working with modular manufacturers?
Images by Terretta