Fairfax County's Zoning Ordinance may undergo major changes in parking requirements at the end of this year. "Parking Reimagined," the County's initiative to reevaluate longstanding vehicular parking standards within its borders,[1] will soon release its draft proposal to citizen workgroups and the broader public for feedback. Notably, the proposal may include modifications to County maximum and minimum parking requirements for specific uses; new requirements for electric vehicles and bicycle parking; and updates to current administrative processes.
Within this proposal, County staff are poised to reaffirm their previously suggested implementation of a three-tiered framework that would tie parking requirements to levels of density, intensity, and availability of transit services. This flexible approach would help to loosen outdated parking requirements' chokehold on needed building updates and reinvestment opportunities beneficial to the community. Essentially, the approach would favor a simplification of rates tied to building size as opposed to the number of employees associated with a specific use in the building. In the same light, it would also distribute parking amounts based on a respective area's degree of car-dependency.
A copy of the County-wide tiered map is shown below. Importantly, the map often extends the reach of transit areas to proximate areas with multimodal infrastructure that would not have qualified as transit areas under current analysis. This is in keeping with the County's emphasis on encouraging alternatives to personal vehicle transportation across the entire County. For example, while density/intensity of development in the Dulles, Fairfax, and Merrifield Suburban Centers vary, each encourages mixed-use development around core transit station or town center areas that are more urban in nature.
Developers eyeing Fairfax for future projects will likely find many of these new proposed requirements helpful to their bottom line. With decreased parking rates, land that once was solely used for parking can be repurposed as mixed-use development. Also, with the lessening of rates in areas across the County, developers may be able to save money on costly below-grade or structured parking construction where site limitations forced digging as the only means of meeting parking thresholds.
Not all of Parking Reimagined's proposals, however, will be received well by developers. Staff will propose codifying bicycle and electric vehicle (EV) parking across the County, taking these standards out of the realm of entitlement and proffers. In addition, they will propose to establish minimum requirements for bicycle parking and potentially Electric Vehicle Charging (EVC) areas. This will complicate matters for developers, as the inclusion of such facilities within a building may severely constrain developers' plans for their properties.
The Parking Reimagined draft proposal should be made available for community engagement sometime this summer. Until then, groups doing business in Fairfax County will be left idling as they wait to hear how these changes may affect their projects.
At Bean, Kinney & Korman, our land use attorneys and support staff keep a close watch on developing trends, updates, and changes to Fairfax County policies and code. Our relationships with government officials and employees continue to help our clients benefit from the often-complicated landscape. Please contact us if you have any questions concerning the proposed parking requirement changes or for any other general land use matters.
This article is for informational purposes only and does not contain or convey legal advice. Consult a lawyer. Any views or opinions expressed herein are those of the author and are not necessarily the views of any client.
---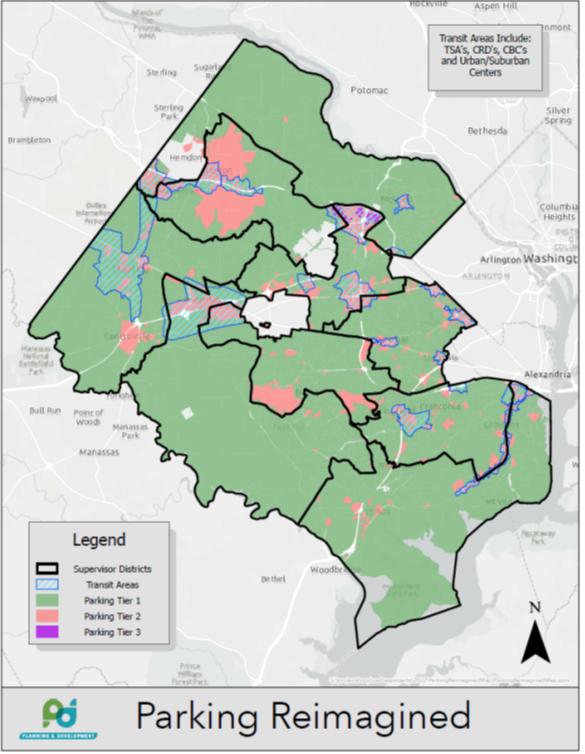 [1] Fairfax County has not comprehensively reviewed its parking requirements since 1988.