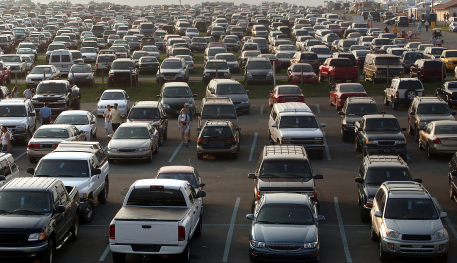 Arlington Commercial Parking Working Group
It is no secret Arlington's workforce is changing how they get to work. In recent years, there has been a shift from single-occupancy vehicle ("SOV") trips to other transportation modes, such as Metrorail, bicycling, and bus. This has caused developers of commercial site plan projects in Arlington County, especially along the Rosslyn-Ballston Corridor and in Pentagon City, to request modifications to the parking space requirements of the Arlington County Zoning Ordinance. These requests are frequently granted with the quid pro quo that the county receives mitigation contributions from developers, such as payments into transportation capital and operating budgets. The result is that the county's parking ratio standard of one parking space per 580 square feet has become merely a placeholder for county mitigation efforts.
But as developers request greater parking space reductions, the county is worried the current mitigation strategy will not be able to offset increased use of alternative transit options caused by the shift away from SOV trips. As a result, Arlington County Board formed the Arlington Commercial Parking Working Group to develop recommendations for mitigating the impact of parking space reductions in commercial site plan projects.
Since January 2013, the parking group has been developing administrative mitigation standards that can be applied during the site plan process in response to parking space reduction requests. The proposed mitigation standards will be in addition to the mitigation measures in place when a developer exceeds the current 1:580 parking ratio.
The Proposal
Recently, the parking group converged on a set of proposals that will likely be finalized at its July 16th meeting. The parking group's strategy is to recommend a set of "mitigation tiers" defined by a parking ratio range. Within that range, a developer will be expected to contribute a sum of money per reduced parking space. This will be done on a progressive basis, similar to federal taxation, where developers only pay for the number of reduced parking spaces above the limits of a given mitigation tier.
Currently, the parking group has defined the first tier for additional mitigation efforts as 1:630 to 1:780 parking spaces per square foot. Within that range, a developer would pay $7,250 per reduced parking space. The second tier is currently defined as 1:780 to 1:1,200 parking spaces per square foot with a proposed cost of $12,500 per space. Beyond the second tier is a currently undefined third tier with a proposed $40,000 per reduced parking space. It has not been determined how the costs should be paid. Staff has indicated they favor a split between upfront payments with the remainder paid over 30 years.
Why This Proposal?
The thinking goes that as travelers shift to new modes of transportation, there is a greater impact on those modes caused by the lack of additional parking. Accordingly, some believe developers should bear costs associated with the shift. What this misses, however, are the ways developers of commercial site plan projects already contribute to Arlington County's transportation funds, such as the transportation tax and commercial real estate taxes. It's also contrary to the county's vision for its Metro corridors, where multimodal splits are the norm with an emphasis on non-SOV travel.
While the county attempts to find the "sweet spot" that balances the developer's efforts to reduce parking with the costs of shifting to other types of transportation, it runs the risk of overreaching and having developers simply build parking spaces. It also ignores the realities of parking requirements in the Washington Metropolitan region. The county's data suggests that the new reality is a 1:700 ratio or higher. This is clear in areas like the Rosslyn Coordinated Redevelopment District and the Crystal City redevelopment area, where the county allows a 1:1,000 ratio before mitigation is required. Similarly, the District of Columbia is moving away from parking minimums altogether. With increased competition for commercial projects from development areas like Tysons Corner, the county should be mindful to remain competitive in this era of changing transportation demands.
What You Can Do
You can still be part of the conversation. Interested parties may submit comments through the parking group's website. While it's likely the parking group will finalize its recommendations on July 16th, it will not present the recommendations to the Arlington County Board until September 2013. There will be a Planning Commission hearing preceding that date.